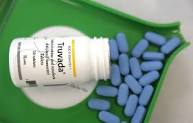 The AIDS/HIV medication Truvada has been linked to bone density and kidney side effects. Anyone who experienced severe negative side effects due to the medication called Truvada may be eligible for significant compensation. Our dangerous medication injury attorneys help those affected get every dollar they deserve by filing Truvada lawsuits on their behalf. There is limited time to file a claim against the makers of Truvada so please contact our injury attorneys immediately. Currently Truvada lawsuits have been filed in California, Delaware and Louisiana.
Do not worry about the cost of consulting with, or retaining, a medication injury attorney handling Truvada lawsuits. Our legal team provides free case reviews to injury victims and charges no fees if they do not recover for you.
What Is Truvada?
Truvada, the brand name for the drugs emtricitabine and tenofovir disoproxil fumarate (TDF), is a Pre-Exposure Prophylaxis (PREP) medication designed for HIV negative people to remain HIV negative if/when they are exposed to the virus during sexual contact.
Why Is Truvada Harmful?
Those who have taken Truvada claim that it causes kidney problems as well as bone loss. It is made by pharmaceutical giant Gilead Sciences, Inc. The many Truvada lawsuits filed claim that Gilead had a safer alternative in the drug tenofovir alafenamide (TAF) but withheld it in an effort to sell as much Truvada as possible.
Other Gilead HIV medications such as Viread, Atripla, Complera, and Stribild have also been found to be harmful. Those suffering injury or illness due to these medications are also eligible for benefits and financial compensation.
Contact Our Injury Attorneys Handling Truvada Lawsuits
Do not wait to arrange a free, and in depth case analysis, with our team of medication injury attorneys. They charge no fees if they do not recover for you.
Serving the entire United States, Puerto Rico, Washington DC, Guam and the Virgin Islands.