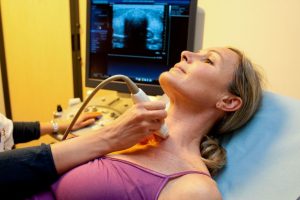 One of the numerous gland that make up the endocrine system is the thyroid. It is a small gland in the anterior portion (front portion) of the neck. It is shaped like a butterfly and is responsible for regulating the bodies metabolism and metabolic functions. An injury, disease, illness, thyroid disease misdiagnosis or cancer misdiagnosis is very serious. If your thyroid disease was due to an accident, injury, chemical exposure at home or work you may be entitled to benefits and financial compensation. Also, if you have had hyperthyroidism or hypothyroidism misdiagnosed or the diagnosis was delayed you may also qualify for benefits and compensation. A condition relating to thyroid disease is very serious and mandates that you connect with our injury attorneys handling thyroid disease lawsuits.
The nationwide team of medical malpractice attorneys have many years experience successfully obtaining very large compensation and benefit packages for their clients. These are mainly done via a settlement but our thyroid injury lawyers have also taken many medical negligence cases to trial and won against the doctor, hospital, drug company, chemical manufacturer or any other liable parties. Please click here to arrange a free case review. They serve all 50 states, Puerto Rico & Washington DC.
Types Of Thyroid Disease Lawsuits
There are only a few different types of thyroid diseases and for the most part they all involve an over, or under, production of thyroid hormones. These different thyroid disorders are:
Hyperthyroidism
Hypothyroidism
Thyroid cancer
Hashimoto's Disease
Goiter
Thyroid nodules
Each of these are considered endocrine system injuries as the thyroid gland is part of the endocrine system. The type of doctor you see for these health issues is an endocrinologist. And, in the unfortunate event your endocrinologist causes you further illness, injury or harm due to medical malpractice you can obtain benefits and financial compensation via a medical malpractice lawsuit against your endocrinologist.
Thyroid Disease Lawsuit Settlements & Verdicts
Our medical injury attorneys have won countless settlements and verdicts for clients who suffered from some type of misdiagnosed thyroid disorder or thyroid cancer. Examples are:
A settlement against a Boston, Massachusetts hospital for a delayed thyroid cancer diagnosis in the amount of $1.75 million dollars.
A settlement against a Massachusetts hospital for a delayed thyroid cancer diagnosis due to failing to interpret thyroid ultrasound as well as a failure to order CT scan. The amount of the settlement was $900,000.00.
Contact Our Negligence Attorneys Handling Thyroid Disease Lawsuits
The team of medical malpractice attorneys we have assembled handle cases across the entire United States and Puerto Rico. Please click here to contact them and arrange a free, yet in depth, case analysis. They charge no fees if they do not recover for you and your family.
Serving Delaware, Maryland, Washington DC, Pennsylvania, Texas, Florida, South Carolina, North Carolina, Ohio, West Virginia, Massachusetts, Nevada, California, Oregon, Washington, New Jersey, New York, Puerto Rico, Tennessee, Arkansas, Oklahoma, New Mexico, Arizona, Louisiana, Mississippi, Missouri, Vermont, Maine, Rhode Island, Connecticut & New Hampshire.