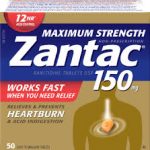 Zantac, and its' ingredient ranitidine is a heartburn medication sold in prescription form as well as over the counter. There are claims that it has the carcinogen NDMA which is used to induce cancer in lab animals. It is a suspected human carcinogen as well. Recently drug stores and pharmacies such as CVS and Walgreen's have stopped selling Zantac in commercial and generic forms. One of the largest manufacturers of Zantac and generic ranitidine is Sanofi-Novartis. Please contact our medication injury attorneys if you believe your cancer was caused by the heartburn and ulcer medication Zantac. They handle Pennsylvania Zantac cancer lawsuits as well as claims in all other states.
Let our Philadelphia Zantac injury attorneys review your cancer injury claim free of charge. No fees if we do not recover for you.
Cancers Linked To Zantac Use
There are many different cancers Zantac is linked to. Some examples are:
Intestinal Cancer
Testicular Cancer (in boys)
How Does Zantac Cause Cancer?
Zantac, and the generic ranitidine, contains the carcinogen NDMA. A carcinogen is any product, gas, medication or chemical that disrupts normal cellular activity in the body, exert their negative health consequences resulting in illness unrelated to cancer. NDMA, the carcinogen in Zantac is no different. As these cases are very new it is unclear what other health repercussions Zantac users may face. Let our Pittsburgh Pennsylvania Zantac injury attorneys help you.
Let Our Attorneys Handling Pennsylvania Zantac Cancer Lawsuits Help
No matter what state you were injured in our team of Pittsburgh Pennsylvania personal injury lawyers can help as they serve all 50 states, Puerto Rico and Washington D.C. including: Alabama, Alaska, Arkansas, California, Colorado, Connecticut, Delaware, Florida, Georgia, Hawaii, Idaho, Illinois, Indiana, Iowa, Kansas, Kentucky, Louisiana, Maine, Maryland, Massachusetts, Michigan, Minnesota, Mississippi, Missouri, Montana, Nebraska, Nevada, New Hampshire, New Jersey, New Mexico, New York, North Carolina, North Dakota, Ohio, Oklahoma, Oregon, Pennsylvania, Puerto Rico, Rhode Island, South Carolina, South Dakota, Tennessee, Texas, Utah, Vermont, Virginia, Washington, Washington D.C., West Virginia, Wisconsin and Wyoming.