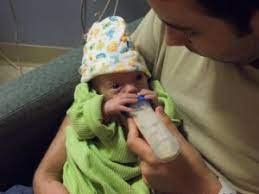 Was your baby born premature and wound up getting necrotizing enterocolitis from Similac baby formula? If so, you may be entitled to benefits and financial compensation for your child's injuries, medical costs, surgical costs, medication costs, hospitalization. pain and suffering. If your child passed away due to NEC you may be eligible for a wrongful death lawsuit against the hospital, doctor or Similac. Please contact our child injury attorneys handling birth injury claims nationwide. They offer free case reviews and charge nothing if they are unable to obtain compensation for you.
What Is NEC?
Necrotizing enterocolitis (NEC) is a stomach problem that seems to mainly affect children who are born prematurely. The condition inflames, and causes the death of (necrosis), intestinal tissue leaving a perforation (hole) in the baby's intestine. Bacteria can then leak into the abdomen (belly) or bloodstream through the hole. The time frame for developing NEC is usually within two to six weeks after birth. NEC is mild in many cases yet other children may experience severe, life-threatening symptoms. 
Contact Our Attorneys Handling Baby Formula Lawsuits
Let our child injury lawyers review your child claim and determine the full value of your case. They'll do everything needed to get your baby the maximum compensation for their injuries, pain and suffering.
No matter what state you were injured in our team of  child injury lawyers can help as they serve all 50 states, Puerto Rico and Washington D.C. including: Alabama, Alaska, Arkansas, California, Colorado, Connecticut, Delaware, Florida, Georgia, Hawaii, Idaho, Illinois, Indiana, Iowa, Kansas, Kentucky, Louisiana, Maine, Maryland, Massachusetts, Michigan, Minnesota, Mississippi, Missouri, Montana, Nebraska, Nevada, New Hampshire, New Jersey, New Mexico, New York, North Carolina, North Dakota, Ohio, Oklahoma, Oregon, Pennsylvania, Puerto Rico, Rhode Island, South Carolina, South Dakota, Tennessee, Texas, Utah, Vermont, Virginia, Washington, Washington D.C., West Virginia, Wisconsin & Wyoming.
Source: https://www.healthline.com/health/necrotizing-enterocolitis