Illinois Personal Injury Lawsuits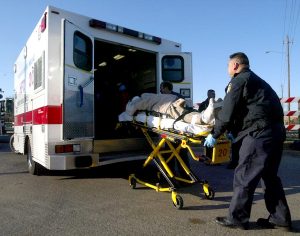 Personal injury law, or "tort" law, allows for just and fair compensation to the injured party when the carelessness, recklessness, or intentional misconduct of another results in injuries to you or damage to your personal belongings. Car accidents are classic examples of the myriad types of potentially life-changing events covered by tort law. If someone hits the back of your car while you are stopped at a red light, that person is said to have committed a tort. A tort is not necessarily a crime, but those who are hurt are entitled to compensation for personal injuries caused the negligence. If you have been injured due to the negligence of another in Illinois contact our Chicago personal injury lawyers.
State vs. Federal
State law usually governs personal injury lawsuits, but federal law may apply in certain circumstances. An injury suffered on federal property may be covered by the Federal Tort Claims Act, for example, or liability for injuries suffered in an airplane crash might be governed by international treaties. A claim for personal injury must be accompanied by an injury that can be compensated. Translated, you must prove an injury in order to seek monetary damages. If you were to slip and fall due to someone else's fault or negligence, you could not recover damages if you were not injured in some way.
Our Chicago personal injury lawyers can pursue your injury claim in both state and federal courts. Whether the harm was caused by a distracted driver who side swiped your car, a nursing home who failed to properly care for a resident, or a doctor who made a surgical error, we can help. Our attorneys have worked long, hard, and successfully for a growing list of Chicago-area clients in these types of injury cases. Let us help you too.
Determining Injuries & Liability
Personal injury law generally seeks to determine the party or parties responsible, or liable, for causing an injury, and the amount of damages the responsible party should be required to pay. It comes classified in three broad categories, or degrees of fault: negligence, intentional torts and strict liability torts. Each of these categories speaks to different types of legal wrongs, or causes of action, and indicates a different "standard of care" that may apply to a given incident.
Our personal injury attorneys know all of these terms all too well, and have seen their share of legitimate injury claims during their many years of helping people in Northern Illinois. You would be wise to put their proven seasoning, skills, and strategies to work for you in your personal injury case.
Medical Malpractice & Defective Medical Products
Our Chicago, IL personal injury attorneys quality representation of clients with serious and catastrophic injuries stemming from medical malpractice.
Patients can be hurt and even killed when doctors, hospitals, and medical professionals make mistakes. The following examples illustrate perfectly the types of cases our Chicago personal injury lawyers handle: surgical errors, misdiagnosis, emergency room errors and anesthesia errors.
Call Our Chicago Personal Injury Lawyers
Our Chicago workers' comp lawyers and Chicago personal injury lawyers want to hear about your legal and injury situations. So phone, fax, or e-mail any of our four Northern Illinois office locations today, in Arlington Heights, Libertyville, Chicago Cary and Itasca, to get started on the road to physical and financial recovery. Upon request, we make home and hospital visits.