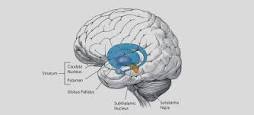 Huntington's disease (HD) is a genetic disorder that has no known cure. The disease causes, over time, a breakdown of nerve cells in the brain. Onset starts between ages 30 and 50 and deteriorates the victims physical and mental abilities. This usually happens during their prime wage earning years. HD is known as the quintessential family disease because every child of a parent with HD has a 50/50 chance of inheriting the faulty gene. Studies show that there are roughly 30,000 Americans with Huntington's Disease symptoms. In addition, there are more than 200,000 at-risk of inheriting the disease. If you, or a loved one, have been diagnosed with Huntington's Disease you may be entitled to benefits and financial compensation.
Treatment For Huntington's Disease
Tetrabenazine (Xenazine) is approved by the Food and Drug Administration (FDA) to treat the jerky, involuntary movements, or chorea, associated with HD.
Side effects include depression and suicidal ideation, thoughts or actions.
Symptoms include:
feeling sad and having crying spells
losing interest in friends and previously enjoyable activities
sleeping more or less than usual and feeling tired
feeling guilty or unimportant
feeling more irritable, angry, or anxious than before
eating less than usual, possibly with weight loss
having difficulty focusing
thinking about harming oneself or ending one's life
These symptoms as well as other mood changes should be reported to the patients doctor immediately.
Huntington's Disease victims with a history of depression, especially with suicidal thoughts, should not use tretrabenazine.
In addition to tretrabenazine there are several medications to control involuntary movements, spasms, outbursts, and hallucinations. These drugs can be:
clonazepam (Klonopin)
haloperidol
clozapine (Clorazil)
These drugs may cause sedation, as well as stiffness and rigidity.
For depression and some obsessive-compulsive features that can appear with HD, the doctor may prescribe:
fluoxetine (Prozac, Sarafem)
sertraline (Zoloft)
nortriptyline (Pamelor)
Lithium may help with extreme emotions and mood swings.
As you can see these meds only help with symptoms and they are very hard on the body and mind. HD medications can easily lead to illness, injury, suicidal ideation and wrongful death. Please connect with our catastrophic injury attorneys handling Huntington's Disease lawsuits today.
No matter what state you were injured in our team of Pittsburgh Pennsylvania personal injury lawyers can help as they serve all 50 states, Puerto Rico and Washington D.C. including: Alabama, Alaska, Arkansas, California, Colorado, Connecticut, Delaware, Florida, Georgia, Hawaii, Idaho, Illinois, Indiana, Iowa, Kansas, Kentucky, Louisiana, Maine, Maryland, Massachusetts, Michigan, Minnesota, Mississippi, Missouri, Montana, Nebraska, Nevada, New Hampshire, New Jersey, New Mexico, New York, North Carolina, North Dakota, Ohio, Oklahoma, Oregon, Pennsylvania, Rhode Island, South Carolina, South Dakota, Tennessee, Texas, Utah, Vermont, Virginia, Washington, Washington D.C., West Virginia, Wisconsin and Wyoming.