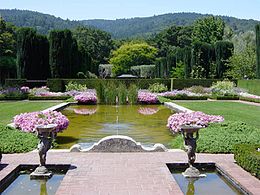 Are you a groundskeeper, farmer or agricultural worker who has been injured on the job? Have you, or a loved one, been diagnosed with Non-Hodgkin's Lymphoma (NHL), leukemia or any other type of cancer? What about other illnesses including Attention Deficit Disorder, hypothyroidism, hyper tension or birth defects? If so, and you have used the Monsanto manufactured weedkiller Roundup you may be entitled to benefits and financial compensation. Please contact our Roundup herbicide injury attorneys helping injured and ill groundskeepers.
Our work injury attorneys serve gardeners, landscapers, agronomists, groundskeepers and maintenance workers across the country who have been hurt on the job due to strains, musculoskeletal injuries, machine accidents and exposure to toxic chemicals and pesticides.
What Are Groundskeepers?
By definition groundskeeping is a profession which involves the beautification and maintenance of land for an institution. These can be cemeteries, hospitals, schools, universities and college campuses, office parks, corporate headquarters, public parks and golf courses. Groundskeepers are the men and women who take care of and tend to these parcels of land. Their job entails cutting and mowing grass, trimming bushes and hedges, landscaping, planting flowers, trees and pulling weeds.
Groundskeeping Equipment & Machinery
Maintaining a large plot of land for a hospital, university, golf course, etc. is a very laborious task that can involve the use of many different types of equipment and machines including: chainsaws, mowers, trowels, sprinklers, hedge trimmers, weed whackers, edgers, rakes, rotary brushes, snow plows, string trimmers, tractors, shovels, diggers, backhoes, leaf blowers, line markers, watering cans and snow blowers. Almost all of these can cause serious injury while on the job.
In addition to equipment injuries groundskeepers can also suffer from repetitive stress injuries, back strains, injuries from falls, slips and assaults.
Occupational Illness In The Groundskeeping Industry
Many herbicides, weedkillers and pesticides are used on a daily basis by grounds workers. These can all result in occupational diseases and illness such as Non-Hodgkin's Lymphoma (mainly due to Roundup weedkiller which contains glyphosate), other cancers, asthma, lung disease and respiratory problems. Please contact our workers' compensation attorneys and mass tort lawyers if you have suffered an injury or illness while working as a groundskeeper.
Undocumented Worker Injury Claims
Undocumented workers account for over 5% of the total American workforce. And they account for 17% of the groundskeeping and maintenance industry workers. Illegal aliens, illegal immigrants and undocumented laborers (all mean the same thing FYI) are entitled to the same benefits and financial compensation as an American citizen who is hurt on the job. There is no chance of deportation if you are undocumented and get hurt on the job regardless of the industry. Let our work injury attorneys helping undocumented workers fight for your rights and protect you.
Groundskeepers & Glyphosate Exposure
Glyphosate is a suspected carcinogen per the World Health Organization. it is also the most common herbicide and weedkiller used in professional settings and the second most common weedkiller in home gardens in the U.S.A. Groundskeepers are in the former category and use different Roundup weedkiller formulas for different groundskeeping scenarios. Any exposure to glyphosate can result in illness, injury and death such as cancer, birth defects, Non-Hodgkin's Lymphoma, B-Cell Leukemia, T-Cell Leukemia and Hairy Cell Leukemia. Please contact our Roundup weedkiller injury lawyers for a free case review. The maker, Monsanto, has been ordered to pay billions of dollars of benefits, damages and financial compensation for not warning the public of the hazards of glyphosate exposure.
No matter what state you were injured in our team of Pittsburgh Pennsylvania personal injury lawyers can help as they serve all 50 states, Puerto Rico and Washington D.C. including: Alabama, Alaska, Arkansas, California, Colorado, Connecticut, Delaware, Florida, Georgia, Hawaii, Idaho, Illinois, Indiana, Iowa, Kansas, Kentucky, Louisiana, Maine, Maryland, Massachusetts, Michigan, Minnesota, Mississippi, Missouri, Montana, Nebraska, Nevada, New Hampshire, New Jersey, New Mexico, New York, North Carolina, North Dakota, Ohio, Oklahoma, Oregon, Pennsylvania, Rhode Island, South Carolina, South Dakota, Tennessee, Texas, Utah, Vermont, Virginia, Washington, Washington D.C., West Virginia, Wisconsin and Wyoming.