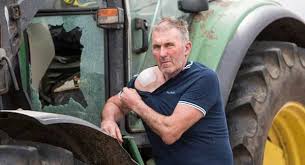 Are you a farmer, landscaper or agricultural worker who has been diagnosed with Non-Hodgkin's Lymphoma (NHL), leukemia or any other type of cancer? What about other illnesses including Attention Deficit Disorder, hypothyroidism, hyper tension or birth defects? If so, and you have used the Monsanto manufactured weedkiller Roundup you may be entitled to benefits and financial compensation. Please contact our Roundup herbicide injury attorneys helping injured and ill farmers.
Our injured farmer work comp attorneys serve gardeners, landscapers, agronomists, groundskeepers and maintenance workers across the country who have been hurt on the job due to strains, musculoskeletal injuries, machine accidents and exposure to toxic chemicals and pesticides.
Are Roundup Lawsuits Workers' Comp Claims?
Typically no they are not. The company that makes Roundup, Monsanto who is a subsidiary of Bayer, has been found negligent as they failed to warn Roundup users of the dangers of the chemical glyphosate which is the herbicide in Roundup. With that, Roundup cases are usually mass tort claims also called toxic torts and or catastrophic injury cases.
Roundup Cancer Diagnosis & Medical Negligence
One very common type of medical malpractice is a failure to diagnose cancer properly or in a timely fashion. If your doctor, oncologist or pathologist do not take a thorough medical history your NHL diagnosis may be delayed resulting in the cancer or other illnesses to advance. This leaves less treatment options and may also make the prognosis more bleak. In cases such as this there can be a medical malpractice claim as well.
Can Illegal Immigrant Workers Working As Farmers File Claims Against Monsanto?
Yes. They absolutely can. Doing so will have no impact on your immigration status nor will it result in you being deported. Monsanto has been ordered to pay billions of dollars in settlements to those suffering due to Roundup exposure. This has zero to do with being a U.S. citizen. Please contact our mass tort attorneys helping injured farmers right away.
No matter what state you were injured in our team of Pittsburgh Pennsylvania personal injury lawyers can help as they serve all 50 states, Puerto Rico and Washington D.C. including: Alabama, Alaska, Arkansas, California, Colorado, Connecticut, Delaware, Florida, Georgia, Hawaii, Idaho, Illinois, Indiana, Iowa, Kansas, Kentucky, Louisiana, Maine, Maryland, Massachusetts, Michigan, Minnesota, Mississippi, Missouri, Montana, Nebraska, Nevada, New Hampshire, New Jersey, New Mexico, New York, North Carolina, North Dakota, Ohio, Oklahoma, Oregon, Pennsylvania, Rhode Island, South Carolina, South Dakota, Tennessee, Texas, Utah, Vermont, Virginia, Washington, Washington D.C., West Virginia, Wisconsin and Wyoming.