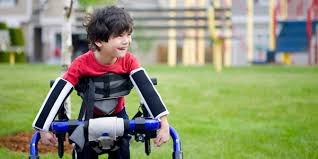 The term Cerebral Palsy is a medical term describing a certain set of conditions and symptoms resulting either from a congenital defect or a birth injury. Approximately 8,000-10,000 births result in cerebral palsy annually in the United States. If your child has been diagnosed with Cerebral Palsy you may qualify for benefits and financial compensation in all 50 states, Washington DC and Puerto Rico. You should immediately contact a Cerebral Palsy attorney with a high level of experience in successfully handling cerebral palsy lawsuits. If your child suffers from cerebral palsy that may be a result of medical negligence, it is important to ascertain whether the cerebral palsy was a preventable birth injury. The issue is that doctors rarely volunteer that they've harmed your child or have been negligent in their duties. So consulting with our birth injury attorneys is wise as they will be able to help you obtain the benefits and financial compensation for you and your family.
Compassionate and Resolute Dedication to Obtaining Justice for You and Your Family
Our pediatric medical negligence lawyers specialize in the complex area of medical malpractice. They have a powerful record of obtaining successful outcomes for his clients and he has secured millions of dollars in compensation. For over ten years they've assisted victims and their families who have suffered as a result of medical negligence and he has sought justice from the medical professionals who have neglected to act to the high standard that their profession requires.
Our Cerebral Palsy injury lawyers are welcoming and caring environment and everyone that works in our firm will get to know you and your family. We want you to feel comfortable and relaxed with us. We have found that this assists our team in growing a personal interest in each case. We aim to understand your journey in dealing with your child´s injury and this in turn provides us with a strong incentive to achieve a successful outcome for you and your family.
Common Causes of Cerebral Palsy
Cerebral palsy can be the result of a congenital defect. However, in many cases, it is the preventable result of a mistake made by a medical staff member. Some causes of cerebral palsy are:
A cesarean section is not performed quickly enough
The child has been left in the birth canal for too long
Insufficient oxygen is provided to the child during birth
Forceps or vacuum are used inappropriately during the birth
A prolapsed umbilical cord is not rectified in time
It is vital that you have a medical expert review the medical records of your child to conclude whether cerebral palsy was the result of medical negligence. The experts can then discuss your case with our lawyers to ensure that you have a clear picture as to the reason behind your child´s birth injury. If the birth injury is a result of medical negligence, those responsible must be held accountable for the suffering caused to your child and your family and we will pursue compensation on your behalf accordingly.
Contact Our Cerebral Palsy Attorneys
Our birth injury lawyers handling Cerebral Palsy lawsuits nationwide is made up of specialist medical malpractice attorneys who have represented many victims and their families nationwide. If you believe that your child has sustained a birth injury due to negligence on the part of your physician, healthcare professional or hospital, we strongly recommend that you contact our office today. We are able to give you an initial complimentary and confidential consultation so that we can work with you to clarify your options going forward. Call our birth injury lawyers handling Cerebral Palsy lawsuits or contact us online to arrange your free initial consultation. Each and every case we handle are on a contingency basis. This means that our clients do not pay our fee unless we obtain compensation on their behalf.