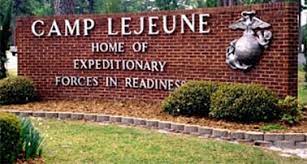 Have you, a dependent or loved one, been diagnosed with any type of cancer, Parkinson's Disease, infertility or any other major health issue and you feel it is a direct result of being stationed at or living on Camp Lejeune Marine Corps Base in Jacksonville, North Carolina? If so, you may be entitled to significant compensation according to the Camp Lejeune Justice Act of 2021, the PACT Act and other federal laws protecting veterans and their loved ones. During the years spanning 1953 to 1987, the drinking water at the United States Marine Corps (USMC) Base Camp Lejeune was contaminated due to underground storage tanks containing benzene and other carcinogens leaking. In that 34 year span almost 1,000,000 civilian workers, DOD contractors, active duty military service members, reservists, dependents and their families were potentially exposed to dangerous chemicals that can cause cancer and other serious health issues. If you or your loved one suffered health problems or cancer from contaminated water at Camp Lejeune, you may be eligible for compensation from a Camp Lejeune water contamination lawsuit. Call or get a free case review today to learn more and speak with our attorneys about. You can also visit @camplejeuneinjurylawsuits for a free case evaluation.
Injuries linked to Camp Lejeune Toxic Water
As with many types of toxic chemical exposure, consumption and ingestion cases there are there are a host of cancers, diseases and other heath issues. There are dozens of them including, but not limited to: ALS, Aplastic anemia, autoimmune disorders, appendix cancer, birth defects, brain cancer, breast cancer, bile duct cancer, bladder cancer, cervical cancer, colon cancer, conjoined twins, congenital malformation, end stage renal disease, esophageal cancer, female infertility and miscarriages, gallbladder cancer, hepatic steatosis, Hodgkin's disease, Non-Hodgkin's lymphoma, intestinal cancer, kidney cancer, (aka renal cancer), leukemia (blood cancer), liver cancer, lymphoma, lung cancer, MDS, miscarriage, male infertility, multiple myeloma, Multiple Sclerosis (MS), neurobehavioral effects, ovarian cancer, pancreatic cancer, Parkinson's disease, prostate cancer, renal toxicity, Scleroderma, sinus cancer, soft tissue sarcoma, spinal cancer aka spinal cord cancer and thyroid cancer and thyroid disease.
Contaminated Water at Camp Lejeune Linked to Cancer
In 1982, the U.S. Marine Corps discovered dangerous chemicals known as volatile organic compounds (VOCs) in the drinking water at the Camp Lejeune base in North Carolina.
However, the contamination actually began in 1953 and continued to expose base workers, service members, and their families until 1987, according to the Agency for Toxic Substances and Disease Registry (ATSDR), though the most contaminated wells were removed from service in February 1985.
The toxic VOCs found in the drinking water included:
Benzene: Used to make other chemicals that compose plastics, resins, and nylon and synthetic fibers
Tetrachloroethylene (also known as ​​perchloroethylene or PCE): For dry cleaning and metal degreasing
Trichloroethylene (TCE): A solvent used to clean metal parts
Vinyl chloride (VC): Over time, TCE and PCE in groundwater degrade to become VC
Benzene, TCE, and VC are all classified as cancer-causing chemicals, while PCE is classified as probably carcinogenic. Exposure to these chemicals can also increase the risk of birth defects and other health problems.
Camp Lejeune Contaminated Water Update 2022
In June 2022, the U.S. government passed the Camp Lejeune Justice Act of 2021, which was part of the Honoring Our Promise to Address Comprehensive Toxics (PACT) Act. The Honoring Our PACT Act focuses on addressing issues that affect veterans who were exposed to toxic materials during service.
Because of this new law, those who were exposed can now seek compensation by filing a Camp Lejeune lawsuit after having been denied justice for so many years.
Who Can File a Camp Lejeune Toxic Water Lawsuit?
You may be eligible to file a Camp Lejeune lawsuit if you or your loved one:
Was exposed to contaminated drinking water for at least 30 days between August 1, 1953 and December 31, 1987
Suffered cancer or other health issues related to water contamination at Camp Lejeune
Not sure about your legal options? Our team can listen to your story and let you know what your options may be. There's no cost to speak with us, and we're available 24/7.