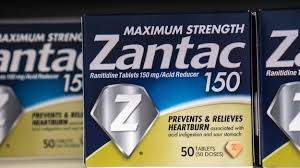 Zantac, and it's ingredient ranitidine is a heartburn medication sold in prescription form as well as over the counter. There are claims that it has the carcinogen NDMA which is used to induce cancer in lab animals. It is a suspected human carcinogen as well. Recently drug stores and pharmacies such as CVS and Walgreen's have stopped selling Zantac in commercial and generic forms. One of the largest manufacturers of Zantac and generic ranitidine is Sanofi-Novartis. Please click here to contact our medication injury attorneys if you believe your cancer was caused by the heartburn and ulcer medication Zantac. They handle California Zantac cancer lawsuits as well as claims in all other states.
Zantac has been Found to Contain High Levels of the Cancer-Causing Chemical, NDMA. People diagnosed with the following cancers should inquire now. Liver cancer, Kidney cancer, Stomach Cancer, Colorectal Cancer, Prostate Cancer, Esophageal cancer, Pancreatic cancer & Bladder Cancer.
Benefits you may be able to obtain if you have been diagnosed with cancer due to Zantac or its ingredient, and known carcinogen NDMA, are lost wage benefits, medical care, pain and suffering compensation.
If you lost a loved to Zantac induced cancer you may also get funeral benefits, death benefits and survival benefits. Our Zantac cancer injury attorneys will review your case and medical records thoroughly and get you the compensation you deserve.
Victims of any type of cancer, illness or death due to Zantac only have a certain amount of time to file their Zantac injury lawsuits. The state you live in has laws regarding these time frames called the statute of limitations. Most states allow for either 2 or 3 years from date of diagnosis or death to file your claim.
Connect With Our Attorneys California Zantac Cancer Lawsuits
Please click here to connect with our Los Angeles, California Zantac Injury Lawyers. They offer free case reviews and will obtain the maximum compensation for you and your family. If they do not you pay no fees.
No matter what state you were injured in our team of San Diego Zantac injury attorneys can help as they serve all 50 states, Puerto Rico and Washington D.C. including: Alabama, Alaska, Arkansas, California, Colorado, Connecticut, Delaware, Florida, Georgia, Hawaii, Idaho, Illinois, Indiana, Iowa, Kansas, Kentucky, Louisiana, Maine, Maryland, Massachusetts, Michigan, Minnesota, Mississippi, Missouri, Montana, Nebraska, Nevada, New Hampshire, New Jersey, New Mexico, New York, North Carolina, North Dakota, Ohio, Oklahoma, Oregon, Pennsylvania, Rhode Island, South Carolina, South Dakota, Tennessee, Texas, Utah, Vermont, Virginia, Washington, Washington D.C., West Virginia, Wisconsin & Wyoming.