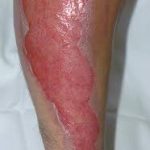 A common yet very serious injury that can happen almost anywhere including at home, work, school and in all types of automobile accidents are burns. They can range from first degree burns (least amount of damage) to fourth degree burns (deep tissue burns) and all can have long lasting and fatal injuries to the victim. The age and overall health of the victim has a lot to do with the outcome of their burn injury. For instance, babies, the elderly and diabetics can suffer far more from even a mild burn injury than a healthy adult. Reasons for this have to do with having a fully developed and functioning immune system, no circulatory system issues and skin thickness. If you have suffered any type of burn injury you may be eligible for benefits, medical care and financial compensation for lost wages, pain and suffering and other economic losses. Please click here to contact our catastrophic injury attorneys handling burn accident lawsuits nationwide. You can also visit @burninjurylawyers to begin your free case analysis. No fees are due unless they obtain compensation on your behalf.
Some of the more common ways, and places, burn injuries can occur are:
In the workplace
Schools, daycares, colleges & universities
Auto accident fires and explosions
Nursing homes
Hospitals and healthcare facilities due to medical negligence
Chemical plants, oil refineries and manufacturing plants
Apartment complex, condo, duplex, townhouse and residential home fires
Wildfires and brush fires
In the home due to malfunctioning pressure cookers, explosions & electrical fires
Restaurants and gas stations
No matter where our burn injury occurred out team of injury attorneys handling burn accident lawsuits nationwide can help. Please connect with them here for a free case analysis. They will determine the full dollar values of your claim, including pain and suffering if applicable, and fight to get you that amount via settlement. If that cannot be obtained they will take your case to trial without blinking an eye.