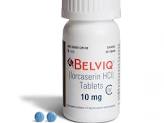 If you have developed colon cancer, pancreatic cancer or lung cancer as a result of taking the obesity medication Belviq you may be entitled to benefits, medical care as well as financial compensation. In addition to combating obesity Belviq was also prescribed for those facing health issues directly related to them being overweight. Examples are high blood pressure, heart disease and diabetes. If you have been diagnosed, and were ever prescribed Belviq since its' release in 2012 it behooves you to contact our catastrophic injury attorneys handling Belviq cancer lawsuits.
Our nationwide network of mass tort and medication injury lawyers handling Belviq cancer lawsuits provide free case reviews. They also charge zero legal fees if they do not recover for you.
What Is Belviq?
Lorcaserin, the generic name for Belviq, is a weight loss medication approved by the FDA in 2012. It is sold in the United States by Eisai, Inc. In Europe it is sold by Arena Pharmaceuticals in Switzerland. So far both drug companies have been named in Belviq lawsuits.
There is the original for of Belviq as well as Belviq XR which is the extended release version. Both present patients with an increased cancer risk.
Why Is Belviq Harmful?
In February, 2020 the FDA asked Eisai to voluntary recall Belviq and Belviq XR. Initially a 5 year long study was done on Belviq as it was thought to possibly pose cardiovascular risks to patients. At the end of the study 7.7% of Belviq users developed cancer. There was also a placebo group and only 7.1% of those people developed cancer. When this study was released Belviq cancer lawsuits began getting filed almost immediately.
What Type Of Cancer Is Caused By Belviq?
Those who have taken Belviq (lorcaserin) showed an increase in 3 separate types of cancer:
Anyone who was on Belviq for at least 6 months, and developed 1 of the 3 cancers linked to Belviq, may be eligible to file a claim against the maker of Belviq & Belviq XR. As of now the 6 months can be a total of 6 months and does not have to be 6 consecutive months.
The only caveat to this is that the cancer has to have originated in the lungs, colon or pancreas. It cannot have started elsewhere in the body and metastasized (spread) to these areas.
Benefits Awarded In Belviq & Belviq XR Cases
The extent of your cancer, when it was caught and the impact it had on your life currently both now and in the future dictate the benefits and compensation you may be entitled to. Sadly, if your cancer was caught in later stages the rest of your life may be impacted and you may not have long to live. It is a wise move for you, and your family, to have our medication injury attorneys review your claim and file the Belviq lawsuit on your behalf.
Contact Our Belviq Injury Attorneys
You can contact our Belviq cancer injury lawyers by clicking here. They offer free case reviews and charge no fees if they are unable to recover on your behalf.
Regardless of the state you were injured in we can help as we serve the entire United States: Alabama, Arkansas, Arizona, California, Delaware, Maryland, Montana, Washington DC, Puerto Rico, Guam, Virgin Islands, New York, Florida, Texas, Illinois, Virginia, Tennessee, Oklahoma, Pennsylvania, Nebraska, North Dakota, South Dakota, Iowa, Missouri, Indiana, Michigan, Wisconsin, Wyoming, Nevada, New Mexico, Washington, New Jersey, Massachusetts, North Carolina, South Carolina, Oregon, Hawaii, Mississippi, New Hampshire, Alaska, Connecticut, Colorado, Kansas, Kentucky, West Virginia, Louisiana, Maine, Minnesota, Rhode Island, Idaho & Vermont.