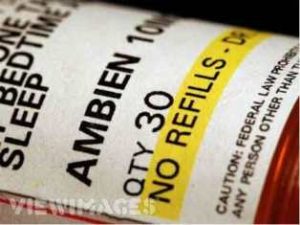 Ambien is a very potent sleeping pill that is commonly prescribed for adults. It can cause many types of harmful behaviors and injuries. Please contact our medication injury attorneys handling Ambien injury lawsuits.
Our Ambien injury attorneys serve the entire country and charge nothing if they do not recover for you and your family. Please click here to contact them and begin your free and comprehensive case review.
Side Effects Of Ambien, Lunesta & Zolpidem
One of the most popular prescription sleeping drugs in the United States is Ambien which is the brand name for the medication Zolpidem. In 2018, JAMA Internal Medicine reported that nearly 70% of the almost four million Ambien users in the U.S. were taking the drug for longer periods than recommended. This is contrary to the manufacturer Sanofi-Aventis recommending taking the drug for a short period of time and at the lowest dose possible.
Drug use and abuse is common in our country. The JAMA report also highlighted that more than a quarter of Ambien users also took opioids, and another 20% were taking the drug along with benzodiazepines like Xanax, Valium, and Ativan, which are used to treat anxiety and panic attacks, among other things.
Ambien is a controlled substance, meaning it can produce dependence (the user relies on it) and tolerance (the user needs to continually increase dosage in order to have the same effect).
The research also found that users over the age of 65 were taking more than the recommended maximum dosage of 5mg per day. Seniors are more sensitive to brain depressants like Ambien and face additional safety risks.
Ambien is a sedative-hypnotic and many users, even at the recommended dosage, experience side effects that can result in accidents, injuries and wrongful death. These can include sleep driving accidents among others. Consulting with our Ambien injury lawyers is a wise move,
Ambien is prescribed to treat sleep problems in adults. Ambien helps users fall asleep more quickly by inducing a calming effect in the brain. In April 2019, the FDA announced that Ambien, and other prescription sleep medications, require a black box warning to alert users that these drugs can trigger dangerous sleep behaviors that can result in serious injuries.

Ambien Lawyers are Ready to Help
Contact our Ambien Lawyers to review whether you or a family member may be entitled to financial compensation. Levy Konigsberg LLP is currently accepting Ambien cases in all 50 states.
If you or a loved one has suffered one or more of these complications, you may be entitled to a cash award and compensation for medical expenses. For a free confidential consultation with Ambien Lawyers at our law firm, please call 1-800-988-8005 or submit an email inquiry above.

What is Ambien?
Ambien contains an active ingredient known as zolpidem. Ambien and other sleep medications, such as Lunesta and Sonata, belong to a class of drugs called sedative hypnotics. They work by targeting the GABA neurotransmitter receptors in the brain. Ambien accounts for approximately 85 percent of the sleeping pills prescribed for insomnia in the United States.

What is Happening with Ambien?
Ambien users are at risk of serious injury from complex sleep-related behaviors that occur when they awake in the middle of the night. These behaviors, known as parasomnias, include sleep walking, sleep eating, sleep driving, and others. A person who is under the influence of Ambien is at risk of engaging in conduct that is risky and dangerous, such as falling (especially the elderly), driving while drinking, and self-injury because parts of the brain that control awareness and memory are temporarily disabled.
In April, federal regulators required certain drugs prescribed for insomnia including Lunesta, Sonata, Ambien, and Intermezzo, to display boxed warning labels that notify users of complex sleep behaviors. The decision to label sleep medications with new warnings comes in the wake of 66 reports of patients engaging in risky behaviors after taking insomnia medications. In 46 other cases, users incurred serious non-fatal injuries after taking the sleep medications and then sleepwalking, sleep driving, and engaging in other activities while not fully awake. In addition to the boxed warning, the FDA included a "contraindication" to advise patients not to use these medications if they have experienced complex sleep behaviors after taking these substances.
Contact Our Attorneys Handling Ambien Injury Lawsuits
No matter what state you were injured in our team of Pittsburgh Pennsylvania personal injury lawyers can help as they serve all 50 states, Puerto Rico and Washington D.C. including: Alabama, Alaska, Arkansas, California, Colorado, Connecticut, Delaware, Florida, Georgia, Hawaii, Idaho, Illinois, Indiana, Iowa, Kansas, Kentucky, Louisiana, Maine, Maryland, Massachusetts, Michigan, Minnesota, Mississippi, Missouri, Montana, Nebraska, Nevada, New Hampshire, New Jersey, New Mexico, New York, North Carolina, North Dakota, Ohio, Oklahoma, Oregon, Pennsylvania, Rhode Island, South Carolina, South Dakota, Tennessee, Texas, Utah, Vermont, Virginia, Washington, Washington D.C., West Virginia, Wisconsin and Wyoming.